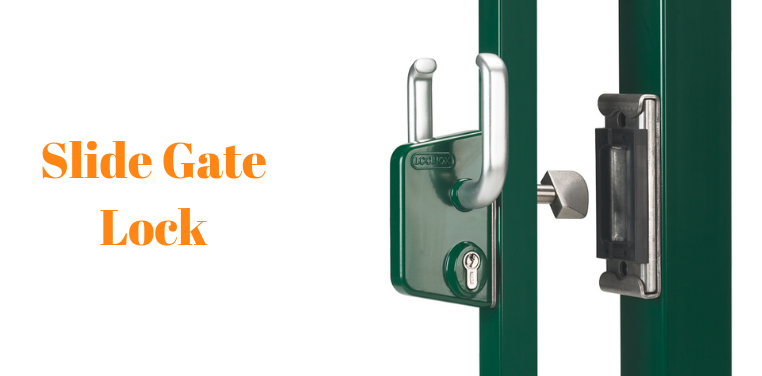 At least one out of five of us have been a victim of a burglary. Most thefts happen especially when you are away from home for work or holiday and in the night while you are asleep. In such an alarming situation, installing a slide gate lock becomes mandatory when you have a sliding gate as it will secure your home as well as keep your pets and children confined to your property.
A sliding gate locking system is an essential part of any sliding gate, especially in burglary prone areas. Locinox gate locks for use in your slide gates will exceed all expectations. Unlike other locks, its sliding gate locking mechanism involves an aluminum housing and stainless-steel mechanism. The deadbolt is used to reverse the code panel and secure the gate.
The unique Twistfinger catch bolt and the auto-correcting system assures safe latching of your sliding gate. Catch bolts are available to fit gate frame profiles from 1-1/2" to 4" wide. The slide gate lock works well with cantilever gate systems or even fixed roller systems. They can be installed on both indoor and outdoor gates to ensure full-fledged protection. These locks differ from other conventional closing systems.
These locks have a rigid body. They have heavy gauge weather sealed housings made of tough steel that makes them weatherproof. They can be fixed horizontally on the upright part of the fixed sliding gate.
That being said, no matter how many locks we install we can never be 100% totally safe. The only thing in our hands is to make our surroundings less prone to theft and other crimes.
There is no proven formula for getting a place protected, but yes, there are many things we can plan and do.
Things you should consider for the safety of your family and property;
Home is one place that we have control of, so why not do everything to protect it.
Apart from installing the security gate hardware, we can definitely take certain measures to care for the safety of the home.
How to prevent break-ins?
Always try to fool potential robbers in your area by making your house look occupied all the time.
Always keep the doors leading inside your house locked.
Before leaving on vacation, let someone trusted in your neighborhood know that you will be away from home.
Never stop mail and newspaper services, as that is a sign of you being away. Just ask your neighbor to bring it in.
Make sure the areas around the house are bright and well lit, so that there are no dark spaces where it would be easy to hide.
Set up motion detectors and alarm systems at doors and windows, as these are the first places burglars will look to enter.
Do not place shrubs or hedges under windowsills, as they are a good hiding place. Should you like them, keep them low and trimmed. Thorny hedges would be a good deterrent.
At DuraGates we can help you configure a sliding gate and provide you with the security you need. Be aware of your surroundings and be a careful owner when it comes to the safety of your family and home.