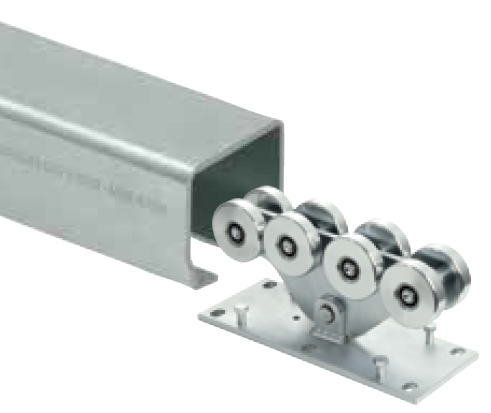 Benefits
Higher weight capacity
Works with any gate material
Smaller overall gate length
Reduces load on gate operator
Low maintenance
Minimal visible hardware
Cost effective compared to traditional cantilever hardware
Easy to install
Durable even for high traffic applications
DuraGates cantilever gate hardware offers a trouble free and easy to install solution for sliding gates!
This simple, yet heavy duty system can handle almost all sliding gate applications. Sealed bearings and covered rollers avoid many of the usual maintenance and efficiency problems due to weather elements. They also help comply with UL325 and ASTM F2200 gate safety standards.
All products are manufactured in Italy by Fratelli Comunello, the world leaders in gate hardware. The technical innovation in the system, as compared to a traditional sliding gate, lies in the fact that the entire gate is cantilevered off the ground without any rollers traveling on the ground. This allows for free movement of the gate in uneven ground conditions and reduces the wear and tear on the gate and on any installed gate automation. The sealed bearings on the carriage assembly require no maintenance or lubrication. Besides, it gives the gate a nice clean look with minimal visible hardware. This engineered solution also reduces the length of the counterbalance resulting in a smaller overall gate length.
The bottom track is available in galvanized steel, aluminum track and stainless steel and can accommodate a solution for every type of rolling gate project. By welding or mechanically fastening the gate to the bottom track, DuraGates sliding gate system can be used with any gate material such as steel, wood, vinyl, aluminum, chain link, etc.
The model selection depends on the combination of the size of the opening and the weight of the gate. Based on the combination, several models may fit your project. The heavier the model, the smaller the counterbalance (tail of the gate) which becomes increasingly important when you have a tight space. Our cantilever gate configurator will provide you the optimal selection of model along with dimensions of the tail of the gate, the position of the carriages and the foundation size required.
The hardware, combined with a range of high-quality gate automation we offer, is truly a long lasting and complete solution for any cantilever sliding gate. Send us your sliding gate details for a customized gate configuration.
Request a Quote