Project Gallery
Photos coming soon.
Hardware
CGS-350.5XL

EXTRA LARGE MONOBLOC CARRIAGE BODY

Heavy duty 5 wheel carriages with sealed bearings. Large pivot allows for increased weight capacity, smooth sliding and stability. Larger wheel dimensions increase the weight capacity and reduce wear and tear between wheels and tracks.

CGS-345XL

EXTRA LARGE GALVANIZED TRACK

The tracks are galvanized and structurally sound which gives them flexibility and permits carrying high loads without distortion. You can build the gate right on the track. The track is made from low carbon steel which allows for excellent weldability.

CGS-346XL

Bottom End Cup for Track

This cup will receive the track in the closed or open position. The beveled edge allows for a smooth stop.

CGS-347XL

End Wheel for Track

This wheel mounts to the end of the track and covers the track end to give a clean finished look. It also prevents dirt, snow, rain, etc., from getting inside the track. The bottom wheel of the cup doesn't engage with the ground but glides gently into the bottom end cup in the closed position.

CG – 348 – M20

Threaded Tie Rod for Carriage

These bolts allow secure fastening of the carriages to the ground. Highly recommended.
GATE HARDWARE PLACEMENT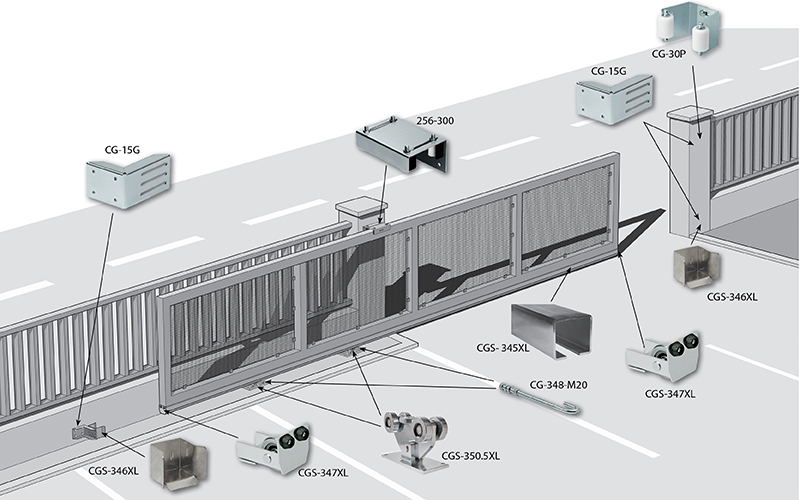 TOP GUIDES FOR GATE WITH STRAIGHT TOP
256 - 300

ADJUSTABLE TOP GUIDING PLATE WITH ROLLER COVER

This guide plate helps comply with ASTM F2200 and UL325 safety standards. The roller covers block pinch point areas within the guide. Use on frames up to 4-3/4" wide.