Why Choose DuraGates for Sliding/Rolling Fence Gates
DuraGates hardware is the latest evolution in cantilever sliding gate technology. Its bottom track covered carriages result in sliding gates that are durable, safer, more secure, more reliable, easier to use, and nearly maintenance-free.
DuraGates cantilever hardware can be used on rolling driveway gates, pedestrian fence gates, deck and patio barrier gates, sliding pocket walls/doors, and can be used with any material (iron, steel, aluminum, stainless steel, wood, chain link, vinyl) and is suitable for any terrain (dirt, gravel, cobblestone, pavers, waterway, slope, or drop off ).
DuraGates enclosed roller system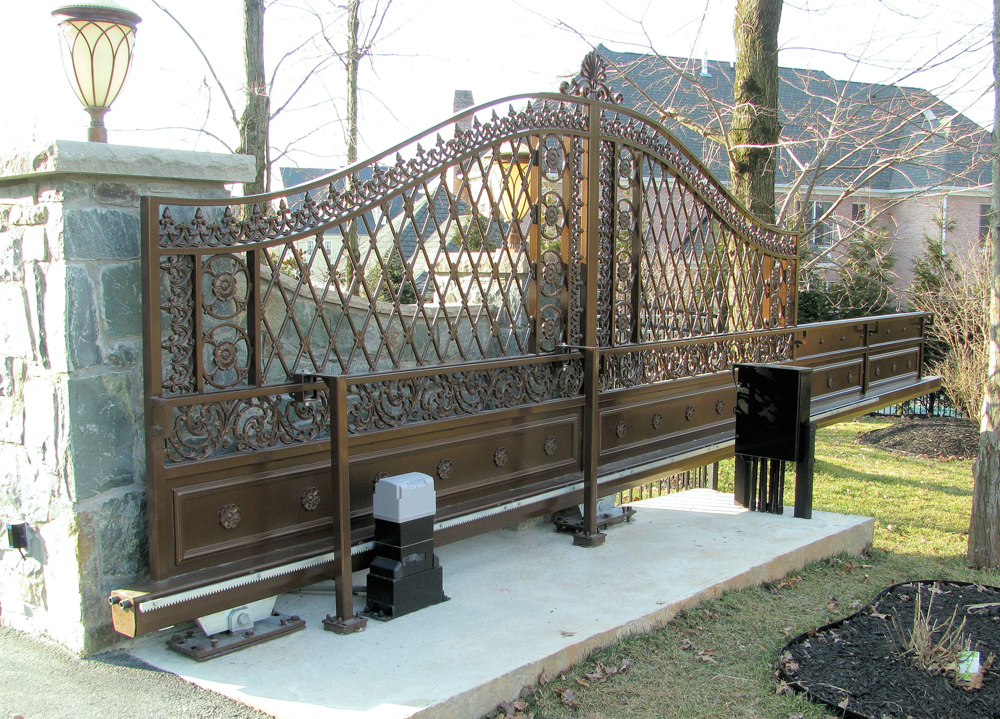 Benefits of using DuraGates Hardware
Higher Weight Capacity. With the weight of the gate transferred to the ground, gate openings of up to 65 ft.& 17,000 lbs. or 30-feet & 20,000 lbs. can be accommodated.
Enclosed Track. Enclosed track system helps comply with ASTM F2200 & UL325 safety standards. DuraGates hardware is perfect for snowy, icy, rainy… any environment as the rollers are enclosed inside the track and not affected by precipitation, eliminating the need for constant cleaning and maintenance.
Use with any Gate Material. The gate can be welded, bolted, or mechanically attached to the bottom track.
Smaller Overall Gate Length. The counterbalance is shorter than traditional cantilever hardware which works especially well when space is restricted.
Easy Installation. Once the 2 carriages are mounted on the concrete pad, simply slide the gate on the carriages and add the end wheels.
Durability. High quality rollers and track result in years of trouble-free operation.
Reduced Load on Gate Motor. The gate will roll smoothly and can be operated with one hand. This reduces the load on the gate motor resulting in a longer life and reduced maintenance on the motor.
Low Maintenance. Enclosed, sealed bearing equipped roller construction requires NO lubrication. The sealed bearings stand up to dusty environments where grit would eat up non-sealed bearing designs.
Minimal Visible Hardware. DuraGate requires no wires or overhead track and makes for a more aesthetically pleasing gate system. DuraGates bottom track hardware can be used with arched top rolling gates and allows for greater flexibility in gate design. Automated gates can also have the gear racked mounted inside the bottom track.
Unobstructed Driveway. No track on the ground to trip over and will also work with sloping driveways as the gate travels off the ground.
PROS
Nice slide action if there is nothing in the way of the rollers like a garden hose, rock, or other obstruction.

CONS
Needs digging of trench along length of driveway for proper installation.
Ground track can be obstructed by objects laying over it.
Rollers can possibly be derailed.
In freezing weather: snow and ice can obstruct the track. When open, the track has potential to be in the way of snow plowing. Rollers can freeze up and no longer slide smoothly.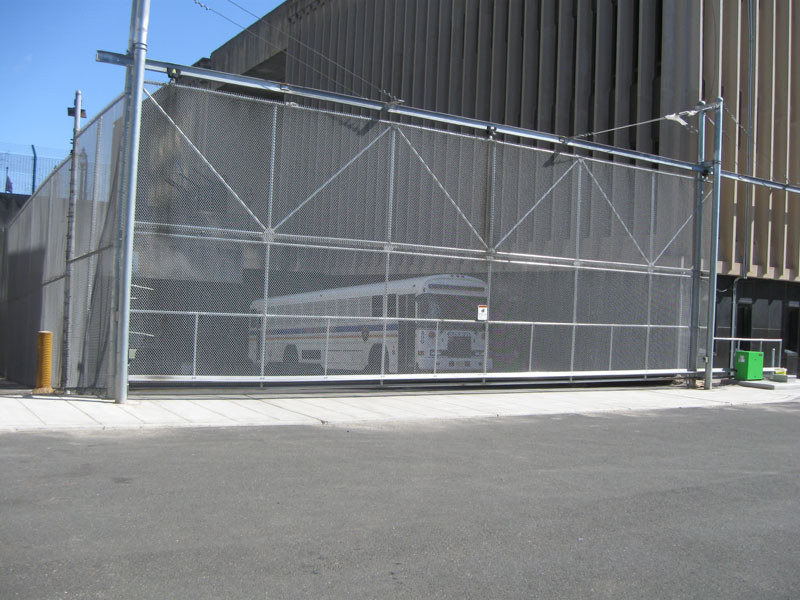 PROS
A closed roller system can sometimes prevent snow and ice from impeding the rolling action of the gate.
CONS
Bearings in these systems are not typically sealed, requiring more maintenance and grease to keep the bearings within the trucks running smoothly. Grease will accumulate grit, especially in dusty environments and requires constant cleaning to maintain smooth gate action.
Overhead systems do not usually work well with ornamental gates as the required track looks very industrial if not hidden by the gate.
Arched top gates are not an option.
Gate weight is constantly pulling down on the track resulting in limited weight capacity.
Chainlink exposed-roller systems
PROS
Economical: As this system uses the bottom pipe of the chainlink gate there is no track to purchase, only the rollers to support and guide the gate.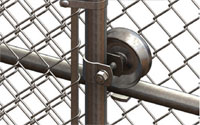 CONS
These gate have little aesthetic appeal, and typically only used in industrial applications.
The gate can get very dirty from the wheel lubrication spreading along the gate frame.
These gates typically have the least smooth action.
The rollers are exposed and require constant cleaning.
Gate requires a minimum 50% counter balance (tail section).