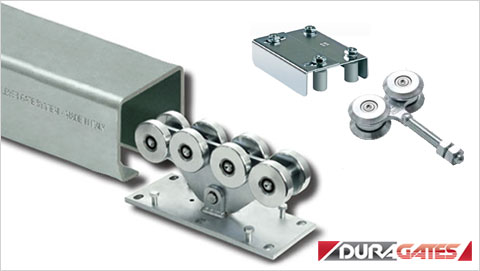 All cantilever sliding gates share some characteristics that set them aside from all other of gate hardware. Cantilever sliding gate hardware is also different in terms of their design, construction and hardware used. Cantilever gates can range from ornamental picket styles to operative chain link styles, from those that require cantilever rollers to gate tracks and trolleys.
What is the difference between Cantilever sliding gate & Swing Gates
Cantilever Sliding Gates

Swing Gates

These gates are more sophisticated and intricately designed. The gates are at least fifty percent broader than your actual driveway and stay suspended on carriages/trolleys. Thus, the gate is able to avoid direct contact with the ground or with any wheels. The carriages are actually secured on a concrete slab which is located on one side of the gate. Now because the carriages are off the ground, cantilever slide gates are an ideal choice especially when you are staying in a place with lots of frost and snow.
Swing gates open either on the outward or inward sides. If your gate opens outward, it is most likely to hit a visitor. There are two kinds of swing gates; single and double.

A single gate opens just like a bedroom door either inward or outward whereas a double swing gate opens like French doors. They can also be installed in such a way that they swing to open in either direction. However, having them opening inward is always recommended.
How to choose my driveway gate?
How you wish to have your driveway gates function will play a crucial role in deciding whether you need a mechanical gate or a motorized one? It will also influence the design and the material of the gate.
If you have a small driveway which is limited on space, then a more realistic option would be to have a swing gate. If your driveway is on sloped land, then having these gates are an ideal option. They can be designed in any way you want to complement your property look.
If your driveway is broad and has space to support wider gates, then go for the cantilever. They are undoubtedly your go-to option for gates, especially during the snowfall. They are a perfect security system and can be set up in combination with other gate automation systems that work well as gate openers for residential to industrial and commercial applications.
Pluses of the cantilever gates:
They take less space considering the fact that they move in the same direction parallel to its fence line.
Cantilever gates are easier to safeguard than compared to swing gates. Safety devices and hardware are easily available, and they are always strongly recommended when automating a gate.
Automated Cantilever gates are less expensive when compared to swing gates especially if they are a double swing gate because it will need two different operating devices.
Cantilever gates need less maintenance than swing gates. Conversely, swing gates usually have hinges which require regular greasing. Finally, think about the snow removal in polar locations. Cantilever gate travels a single path whereas swing gates swing wide.
They are aesthetically appealing. It is sure to impress anyone entering the property with its smart appearance, and craftsmanship.
If you're renovating or updating an existing residential slide gate with cantilever hardware, then you must consider the look of your home and its aesthetics. For instance, wrought iron or timber gates compliment well the older style buildings whereas aluminum or steel work well for contemporary homes.  Depending on your personal choices, DuraGates sliding gate hardware can accommodate all building materials.
Get in touch with the best in town sliding cantilever gate hardware suppliers, DuraGates today and get personalized recommendations for your driveway gate.