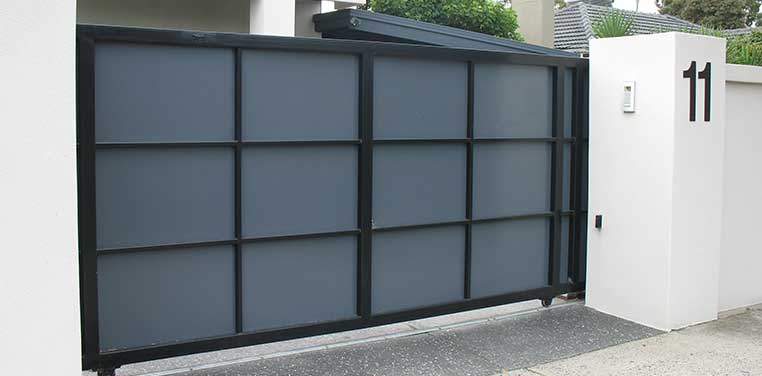 Today the cost of sliding gate hardware and automated gate systems is within reach and most are able to install a sliding gate and an automated operator for added security to their home or business.
To secure your property, you may consider sliding, swing, and cantilever gates. If you choose what's trending, sliding gates have become the norm, as these gates are more useful as well as efficient enough to safeguard a property. At DuraGates, you will find a range of cantilever sliding gate hardware that you can use to create the perfect gate.
Cantilever Slide gates have several benefits too. If you yet don't know about its many advantages, then refer to the information below;
Sliding gates can be used with any driveway size, and these gates don't require much effort or time to slide open and closed.
Since the gate glides on 2 carriages it reduces the load on a gate automation system.
Sliding gates can slide along an existing fence line, and they do not have hardware in the driveway that may cause other gates to get stuck or have the wheels become disconnected.
If you automate your cantilever sliding driveway gate, that's an even a better choice. They are impossible to open up even when forced. Automated gates are designed such to secure a property completely. If cameras are installed, they can help you detect if someone or something is trying to enter/ exit your premise. This way, you have complete authority of your property. There are so many models of gate openers available in the market. All their features are upgraded and improved to make it more functional and easier to use. A flexible on and off feature make it less strenuous for the hardware of the gate to open or close. Made with automation technology, you will no longer need to manually operate the gate, as the gate motor will do it for you.
Sliding gets are extremely durable and long lasting.
There is no way a sliding gate can be moved by wind load.
Automatic sliding gates are more secure and safe as they will have electrical sensors and safety beams.
They can be more useful if you have a driveway on a slope.
Because they are automated, one does not have to worry about closing or locking their gates. Because it all happens automatically.
We provide automation hardware for sliding gates that are made with the help of precision technology. Thus, adding to the durability and functionality of your gate.
You can customize your cantilever sliding gate in different styles, colors, and designs in order to fully suit the building or apartment's requirement. These gates can withstand any weather conditions as well as temperature rise and fall. They serve as the best option for dry cold climates as well as hot and humid climate conditions since the track is offered in galvanized steel, aluminum or stainless steel.
Automatic sliding gates will add value to the property, restrict property access and be a decorative feature at the front of your home or business.
Finally, you must choose a well-established and trusted company to buy all your sliding gate hardware and automation tools. Get in touch with DuraGates today and get yourself a perfect sliding gate system.