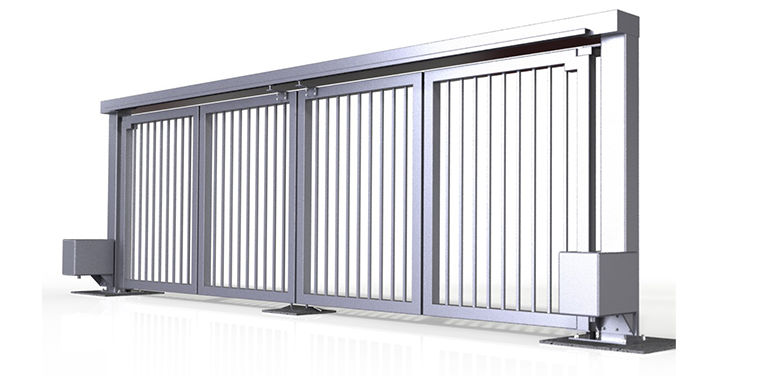 Having sliding gates for houses or businesses to ensure security of your property is definitely a great idea. Stainless Steel slide gates are an amazing option if you have restricted parking areas or sloping driveways. They contribute to boosting up the security as well as prevent trespassers.
The thing with steel slide gates is that they can be custom designed to fit all interests. If you look at the automatic slide gates, you will discover that they are beautifully welded and assembled using either steel or cold galvanized prime to prevent rusting. And, as we know a good quality steel is robust, sturdy and don't wear down easily, hence will keep you in peace for years to come.
Although there are plenty of reasons to spend on a steel slide gate, we will throw light on a few key reasons below.
Less maintenance required
Undoubtedly, steel slide gates are easy on maintenance than compared to other metal gates. In fact, simply using a piece of cloth and a standard house clean solution can keep it clean from dust, and debris.
The one thing you need to keep under constant observation is the hinges and the latches for any sign of rust. However, steel slide gates tend to last for a longer period.
A better security system
You may not believe this but yes, sliding gates does make it difficult for burglars to access your property. If someone wishes to enter your property, having a sliding gate will make it a lot harder on them.
For additional security, install security cameras and make your home safer
Keep your home well protected using security cameras and keep your property safe. All you need to do is install security cameras on your gate and operate it from the inside. Things will be thus under your control.
What is good?
Track or Cantilever?
There are two variants of steel slide gates: -
Stainless Steel track model;
In this, the wheels of the slide gate run on a hard, metallic track bolted down to the concrete surface.
The gates roll easily as, and the gate operators are easily installable due to the smaller frames.
Stainless Steel Cantilever model;
There are no metal tracks involved in this. It just has the rollers that support the gates and helps it slide mid-way across the driveway.
However, they are not easy to lift. This nature of cantilever also reduces the chance of breaches or issues with the gate drive system. In case, your driveway has a dip or hump, installing cantilever sliding gates can be lot comfortable.
Conclusion
Both of them are great with their own functionalities, and so it eventually boils down to your preference.
Perfect for offices, hotel properties, and residential areas, the Stainless-Steel Sliding Track Hardware System is available with Duragates. The system suites beautifully with our other products including architectural gate pulls and accessories.
Keep people from breaking in your home with sliding gates. If you have worries about the prices, check out a few sliding gate parts and other hardware we have. We can help you assemble a great looking and secured sliding gate.