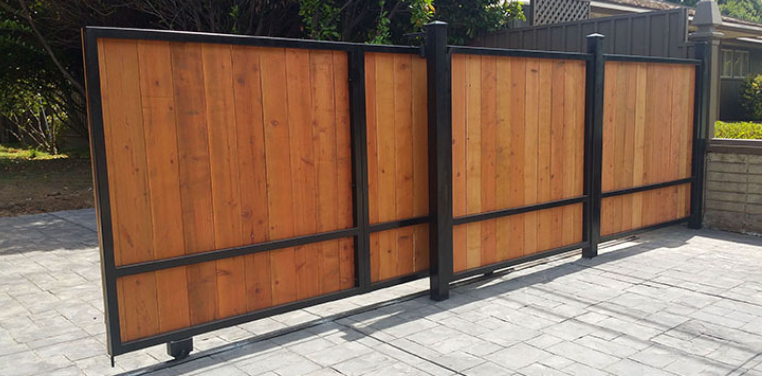 Sliding gates offer plenty of advantages. When you find the right slide gate for your driveway, one that matches the architectural aspect of your building, you will undoubtedly have a fantastic feeling. A wooden slide gate, if you choose, can easily add class and elegance to your home and in turn, raise the value of your property. Besides, installing a gate on your property also provides privacy and security for the entire family. Unfortunately, buying and installing a wooden slide gate may take some time. You will have to take into account the type of wood, size of the gate, maintenance and budget before being able to enjoy its many benefits.
If you wish to have the best quality gate, you must keep the following things in mind;
Choose quality wood
While you are choosing the gate, ensure that the quality of the wood used in making your gate is of the highest quality and has been obtained from sustainable resources. Cedar and treated lumber are the better options. These woods can both be stained or painted and hold up as they resist damage, bad weather conditions and provide long-lasting durability. However, in some cases, it may be more practical to use a softer wood such as Pine. Therefore, do a bit of research to see which type of wood will hold up best in your area and the type of maintenance required.
Design and functionality
Look for a gate that has a design which can fulfill functional needs. For example, close boarded double gates are excellent for a larger driveway. In the same way, barred gates are ideal for homes with pets or livestock. You can get an arch-shaped or a flat top gate to match the appearance of your house and other decors. In this way, you can take into consideration a combination of various designs to find quality wooden gates.
Enhance security with modern automation
Of course, wooden gates are no less than any other type of modern gates in terms of security and functionality. You can enhance the safety and functionality of your wood slide gate by adding to it the right amount of gate automation. Yes, you can get sliding gate automated, which means being able to open or shut the gate by simply pressing a switch or a button.
You may also install an intercom or a video facility at the gate for extra security. Finally, to increase the durability of your wood gate, you must treat it with stain and sealer to ensure the longevity of the wood.
At DuraGates, we help you choose the correct slide gate hardware and automation for your ideal gate. From carriage bodies to galvanized track, end wheels, tension bars and more, you will find all necessary components that you will need to assemble and install your wooden slide gate.
Sliding gates give an attractive look to your home, so you must definitely install one after considering the types of sliding wooden gate hardware that DuraGates is offering. Get in touch now, and we will help you choose the correct hardware to build the gate of your dreams that will match the aesthetics of your house.