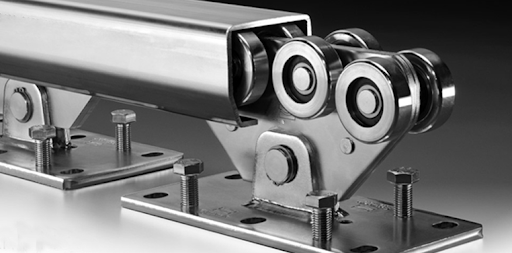 Having a sliding gate for a home or business to ensure the security of your property is definitely a great idea. Stainless Steel slide gates are an amazing option if you have restricted parking areas, sloping driveways or a corrosive environment. They contribute to boosting up the security as well as preventing trespassers.
Stainless steel slide gates can be custom designed to fit most applications. If you look at slide gates with gate automation, you will discover that they are beautifully welded and assembled and support all types of slide gate operators. And, as we know good quality steel is robust, sturdy and won't wear down easily, hence will keep you in peace for years to come.
Although there are plenty of reasons to invest in a stainless steel slide gate, we will throw light on a few key reasons below.
Less maintenance required
Undoubtedly, stainless steel slide gate hardware is easier maintained compared to other metal gates. In fact, simply using a piece of cloth and a standard house cleaning solution can keep it clean from dust, and debris.
A better security system
You may not believe this but yes, sliding gates do make it difficult for burglars to access your property. If someone wishes to enter your property, having a locked sliding gate, whether by slide gate lock or a gate automation system, will make it a lot harder on them.
For added security, install security cameras and make your home safer
Keep your home well protected using security cameras and keep your property safe. All you need to do is install security cameras on your gate and operate it from the inside. Now you will be able to see what activity is happening near your gate.
Which is better?
Track or Cantilever?
There are two variants of stainless steel slide gates: -
Stainless Steel track model;
In this, the wheels of the slide gate run on a hard, stainless track bolted down to the concrete surface.
The gates roll easily and the gate operators are easily installed due to the smaller frames. However, if dirt or debris is on the track itself, the gate will become stuck and that debris will need to be cleared before the gate will roll again.
Stainless Steel Cantilever model;
There are no metal tracks bolted to the driveway in this system. It just has the carriages on the ground that supports the weight of the gate and track which then slides across the opening without anything on the ground.
This nature of cantilever also reduces the chance of breaches or issues with the gate drive system. If a driveway is on an incline, you would just have to make sure the carriages are installed high enough to clear the highest point on the ground.
Conclusion
Both of them are great with their own functionalities, and so it eventually boils down to your preference.
Perfect for offices, hotel properties, and residential areas, the Stainless-Steel Sliding Cantilever Hardware System is available with DuraGates. The system coincides beautifully with our other products including architectural gate pulls and accessories.
Keep people from accessing your property, uninvited, by installing a sliding gate. Here at DuraGates we have many sliding gate models to fit your budget and can provide you with a detailed project summary of the hardware required.