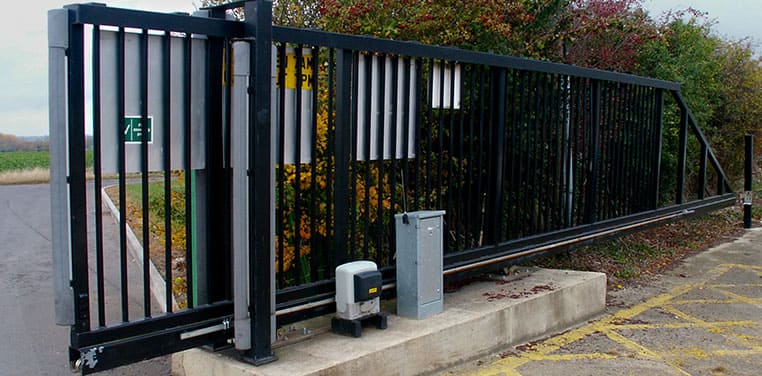 As a business owner, you will want to keep your employees, labors, resources, and building safe from intruders. Depending on the business type, there may also be cash and other valuables present inside.
However, in most cases, many of the documents carrying critical business information is important for the day-to-day operation of the company. Take, for example, accounting files, inventory numbers, client lists, business plans, and other documents carrying official data that are highly protected from leaking out.
Let's face it; we can never leave the gates or doors of the building open when not inside. Many things happen in and around your property during the day and night.
So, how do you safeguard everything that is within your building?
Obviously by installing a security fence that will protect your property from all three sides and the placement of a gate that will serve as an entry/exit point. By adding a cantilever slide gate using DuraGates hardware and a trusted name brand gate operator you'll have the control of who enters the business property. At DuraGates we provide cantilever slide gates that are a perfect fit for commercial premises. Over the years, we have helped numerous customers reap the rewards of automatic security gates thanks to our consistent commitment to quality and safety.
What to expect from our gates?
Improved security
A cantilever slide gate installed with an automatic gate opener is the best security system for protecting the property outside of your building. Any trespasser trying to gain access to your property will first have to face the daunting physical obstacle, the gate, which will eventually discourage and make them turn away.
Greater convenience
Thanks to electric gate operators and its wireless technology a variety of options are available for entry and exit. For an office complex, you can opt for adding access control features which are very popular. This would allow the gate automation system to work under the principle of remote controls, intercom, and swipe card devices. The system would provide employees convenience and security, whenever coming and going from the office.
Better value
Just like other business investments, having a slide gate with an automatic opener will increase the property value and perhaps even lower your insurance premium.
Outstanding appearance
Cantilever slide gates noticeably improve the appearance of your property. They are pleasant to the eyes and are bound to impress nearby businesses and passers-by too.
What else?
More privacy
For business owners that value their privacy, the presence of such security gates can help prevent just anyone from walking onto your property.
Having a secure office facility will give you more control when allowing visitors access to them. It may also make it easier to determine who may have entered the building if there is a situation of concern.