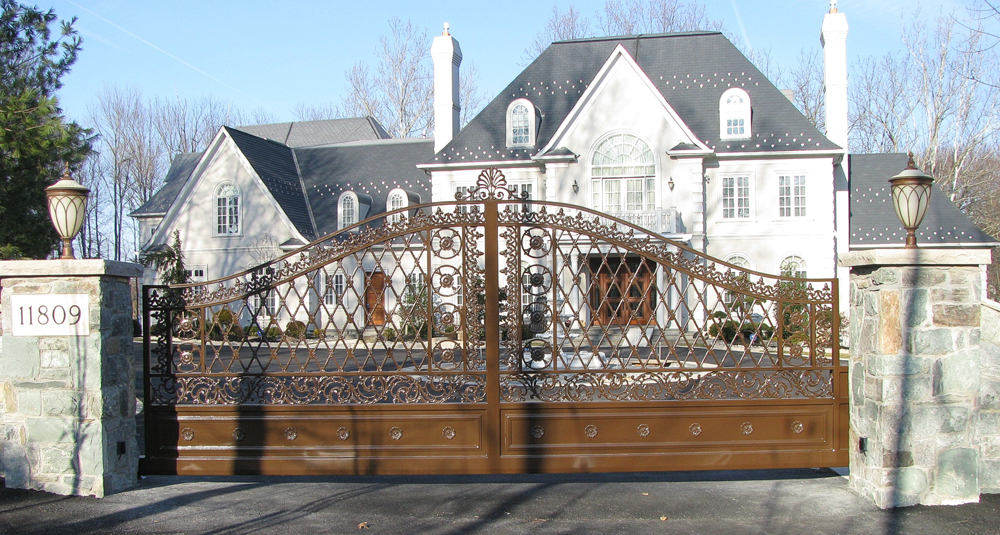 When planning your next gate project, how do you decide if a swing or cantilever sliding gate should be used? Below, some of the pros and cons of each will be discussed.
Swing gates are typically less expensive to install, as they do not require a concrete slab for hardware placement. Also, these gates provide a pleasing look to home and work entrances. Swing gates additionally have larger spans, but can end up blocking the left or right sides of the driveway. This could be a hindrance if a visitor needed to turn sharply past the opening of the gate.
Cantilever sliding gates installed with our DuraGates hardware from Comunello in Italy, typically allow for shorter tail ends, thus decreasing the total gate length and lessening the travel distance of the gate. However, these gates do require a larger space to slide to the left or right of the driveway, which may be a deterrent for some if space is limited.
Although some cantilever systems use overhead wheels to suspend the gate over the drive area, there are options now available where the carriages or trolleys mount on the ground, thus eliminating the overhead hardware. The trolleys are also enclosed within the track, which eliminates the need for constant cleaning and greasing and makes this gate hardware a low maintenance option.
Track systems for cantilever sliding gate hardware has evolved as well, allowing for gate openings of 60 ft. and gate weights of 4500 lbs. Galvanized steel, aluminum steel or stainless steel tracks are now available and allow for the gate frame to be fastened directly to the track making installation quick and easy.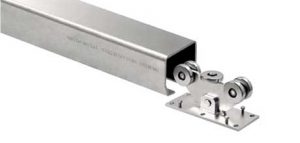 DuraGates is pleased to announce a new
stainless steel track
that can be used in areas where extra corrosion protection is required - especially along coastal areas. This hardware can handle gate opening widths of about 15 ft. or more depending on the weight.
Sliding gate hardware is minimally visible and will not hinder the look of the property. In fact, many clients have designed some fantastic gates.

Duragates
to download our
Brochure
, watch the informational
Video
or glance through the
Project Gallery
.