Models
---
No Matter What Material Is Used for Your Fence, Sliding Gate Hardware Is Available From DuraGates
The Comunello Cantilever Gate System comes in two versions, CGS (steel) and CGA (aluminum gates). All accessories are galvanized for a more durable product. The Sliding Gate systems can be used for any gate material such as steel, wood, vinyl, aluminum, chain link etc.
The technical innovation in these products, as compared to a traditional sliding gate, lies in the fact that the entire gate is cantilevered off the ground without any rollers moving on the ground. This allows for free movement of the gate in bad ground conditions and also reduces the wear and tear on the gate. Maintenance is also reduced. Besides, it gives a nice clean look without any unsightly wheels moving on the ground.
The model selection depends on the combination of the size of the opening and the weight of the gate for the opening part. Based on the combination, several models may fit your project. The heavier the model, the smaller the counterbalance (tail of the gate) will be. This becomes increasingly important when you have a tight space.
Our configurator will provide you the optimal selection of model along with dimensions of the tail of the gate, the position of the carriages and the foundation required.
The other deciding factor becomes the material of the gate. The bottom track is available in steel and aluminum so generally it makes sense to pick the corresponding models. However, you can mechanically attach any gate material to the track which gives you tremendous flexibility in the gate design.
Send us your sliding gate fence details for a customized gate configuration.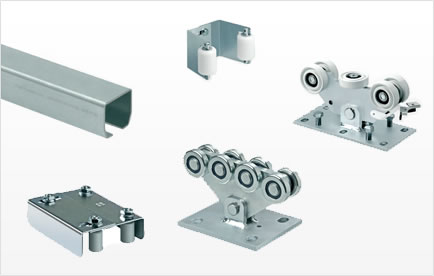 Capacity Ranges - Steel
Galvanized Steel Track with Galvanized Steel Rollers
Capacity Ranges - Aluminium
Aluminum Track with Nylon Rollers
The capacity ranges listed above are only meant to give you a general idea of which model will suit your project the best. Once we get your project specifications, we will be able to recommend a specific model.
To configure your gate dimensions:
Request a Quote